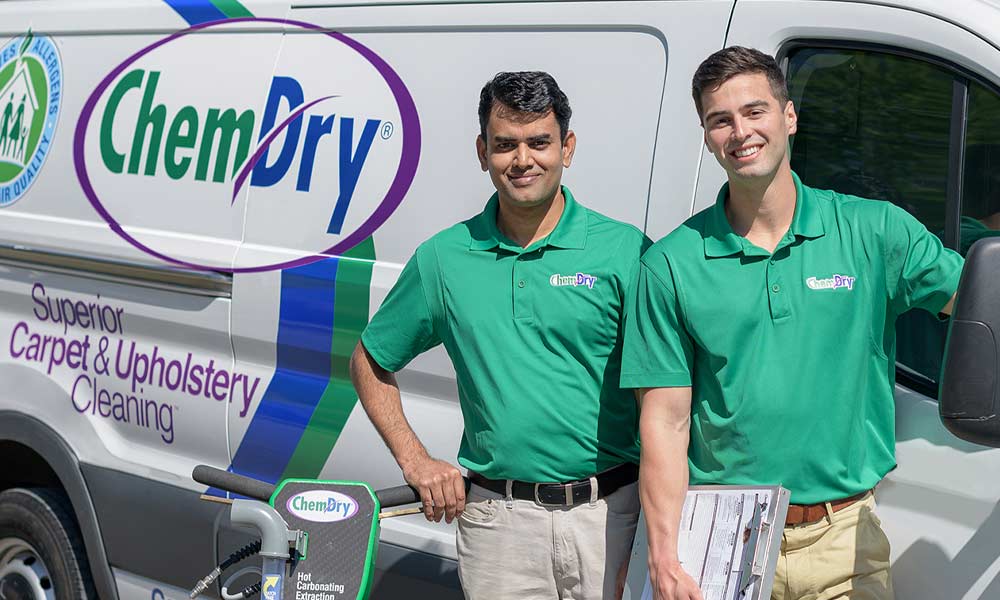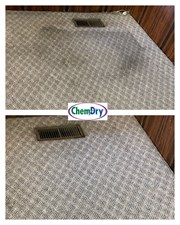 Chem-Dry of Michiana has been cleaning carpet in Goshen, IN since 1987 and we will have your carpet sparkling clean and dry in hours, instead of the 1-2 days of other cleaners. It's been proven Chem-Dry carpet cleaning will remove 98% allergens when we clean your home.
How Do We Do It?
The Natural is our green cleaning solutions. Our system uses proprietary, effervescent, hot carbonated carpet cleaning process that is the heart of why Chem-Dry is the best carpet cleaning method. We use a low pressure carpet cleaning solution, with millions of effervescent cleansing bubbles to break up and lift the dirt and stains from your carpet to be extracted away leaving you with cleaner carpets. Your carpet is drier, cleaner and healthier with Chem-Dry of Michiana.
The Power of Bubbles, Gentle for Carpet and Your Family!
The Natural uses less water than other processes, so drying time is minimized, reducing the chance of mold, mildew and bacteria growth.
The Natural is safe and gentle for most carpets and for your entire family, including your pets.
The Natural contains no soaps, detergents, solvents, enzymes or other harsh chemicals.
The Natural leaves behind only your sparkling clean carpet with no soapy residues to attract dirt, which cause your fabrics to get dirty again even faster than ever.
The Natural is a green certified cleaning product leaving your home green, clean and healthy.
Tested and Proven Superior Results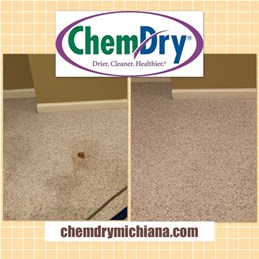 Our Hot Carbonating Extraction (HCE) process was tested by a leading independent air quality laboratory in multiple homes. The lab found that Chem-Dry removes an average of 98.1% of common household allergens from carpets and upholstery. The common allergens tested were dog and cat dander and dust mite allergen.
Our highly trained service professionals use the power of Hot Carbonating Extraction for a deep and healthy clean. You can trust our powerful equipment and proprietary cleaning solutions to offer the cleanest clean, the driest dry, and the safest process available in the Goshen area.

Our hot carbonating extraction equipment and The Natural cleaning solutions have received the Carpet & Rug Institute's Seal of Approval. Carpet manufacturers require routine carpet cleaning to maintain your carpet warranty and cleaning with Chem-Dry of Michiana will keep that warranty intact. Call us today to get a free quote.
Did You Know this about Goshen, IN?
Some interesting facts about our community include that Goshen Historic district was added in 1983 to the National Resistor of Historic Places with the Elkhart County Court House being in the center. Goshen is also known as a major recreational vehicle manufacturing community. Goshen is the home of Goshen College and home of one of the largest county fairs in the U.S.,  the Elhkart County 4-H Fair. Chem-Dry of Michiana is proud to be cleaning your hometown community of Goshen, IN.

Businesses Chem-Dry of Michiana has cleaned in Goshen, IN include: Goshen Air Center,  Concord K-9 Center, Maple City Healthy Care, Barkes Kolbus Rife & Shuler, and Goshen Church of Christ.
Call for a Free Quote!
Contact us to get a free quote and request a service appointment. We'll discuss your needs, provide you with a no-obligation quote and can begin the cleaning process at your convenience.