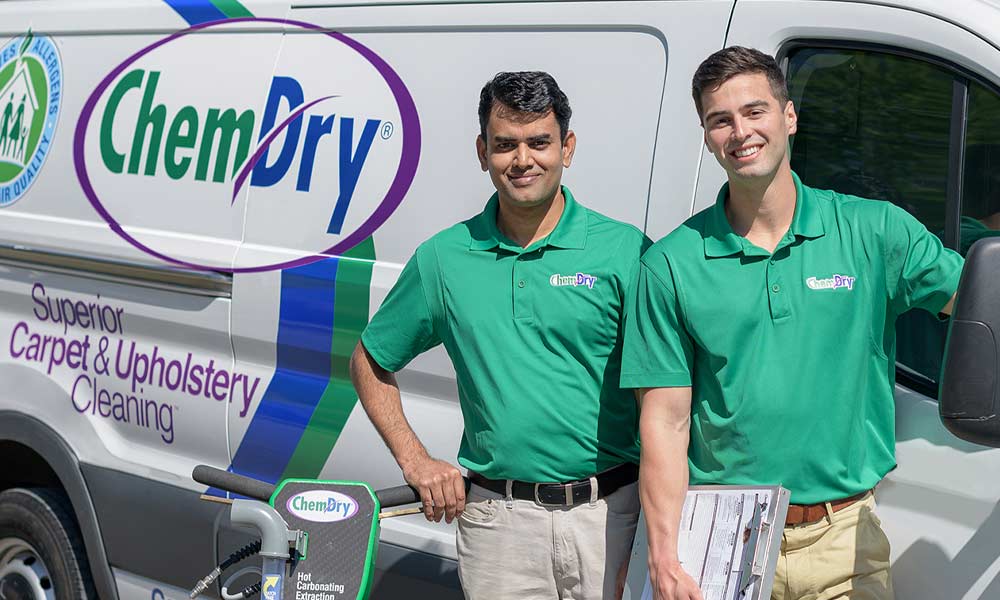 Chem-Dry's approach to carpet cleaning provides a better experience for the home and business owner in the Granger area. Chem-Dry of Michiana uses the power of carbonation to extract more dirt and grime from your carpets, by working as an effervescent to break-up and lift up that dirt giving them a deeper clean. Because our carbonated cleaning substances work to lift up the dirt, we  only have us to use a fraction of the moisture that  steam cleaners require. This allows your carpets to dry quicker and helps prevent the growth of mold and mildew under your carpet. This leaves you with a carpet cleaning that is green and clean making your home healthy.
Chem-Dry of Michiana's signature cleaning solution, The Natural®, is a cleaning mixture that, through the power of carbonation, lifts dirt to the surface where it is whisked away. The Natural is non-toxic and ideal for homes with kids and pets, and has received the Green Certification.
Tested and Proven - Superior Results
98.1% of common household allergens  are removed from carpets and upholstery. The common allergens tested were dog and cat dander and dust mite allergens.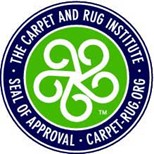 Our deep cleaning and healthy carpet cleaning solutions is sure to clean your Granger home as no one else can. Chem-Dry can clean all carpet types including wool, berber, nylon and oriental area rugs.  Chem-Dry of Michiana is preferred by customers and professionals alike. The Carpet and Rug Institute (CRI) designated Chem-Dry of Michiana as a company deserving the CRI Seal of Approval for the innovative and unique Hot Carbonating System. This program identifies effective carpet cleaning solutions and equipment that clean carpet right the first time and protect a home or commercial facility's carpet investment. The blue and green CRI Seal of Approval is proof that you are investing in a quality carpet cleaner in the Granger, IN community.
Customer Comments Sent to Us & Via the Web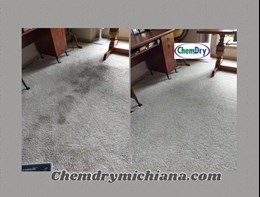 Karla S wrote on Google: "Scheduling my carpet cleaning online was easy and fast. On the day of my appointment, the technicians arrived within the suggested time frame and were very courteous, careful with our furniture, and efficient. Our carpets are noticeably cleaner and any highly dingy areas or spots are no longer visible. Great experience!"
Stephanie J wrote on Facebook: "We are so happy with the results Chem-dry provided. Their team members arrived promptly upon scheduled time. They measures out areas to be cleaned, and didn't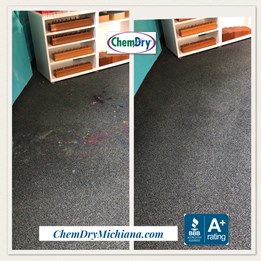 bat an eye when I added a room at the very last second. They took their time in answering my questions and quickly and efficiently went to work. I was skeptical that my carpets would look the way I wanted, because with 3 dogs and years and years of children and family, they were looking really rough. However, to my surprise, they not only got my carpet clean but it looks brand new again! My nice thick pile is no longer matted down, it not only looks nice but it feels amazing and smells even better! Thank you Chem-dry! We definetly won't be waiting so long for our next service!"
Kara T in Granger wrote: "I think you did such a wonderful job. You got out spots I didn't even think would come clean!" January 2018
Lisa M in Granger wrote: "Our carpets feel & look brand new." October 2017
Cesar S in Granger wrote: "My carpets look great! I appreciate your services." September 2017
Carrie W in Granger wrote: "Always a pleasure, love Chem Dry..." June 2017
Nancy N in Granger, IN wrote, "We always get great servcie from Chem-Dry!" December 2016
Leanna S in Granger, IN wrote, "Will recommend to others." April 2016
Becky P in Granger, IN wrote, "The guys did a great job. The carpets looks great!" December 2015
Torance R. in Granger, IN wrote, "Another excellent cleaning job!" October 2015
D. Davey in Granger, IN wrote, "Love this product! Thanks!" June 2014
D. Harr in Granger, IN wrote, "The guys were friendly, professional and the carpets look great!" October 2013
K. Hocker in Granger, IN wrote, "They (technicians) both did a lovely job. Thank you!"May 2012
Get Your Free Quote!
Contact us to get a free quote and request a service appointment. We'll discuss your needs, provide you with a no-obligation quote and can begin the cleaning process at your convenience.