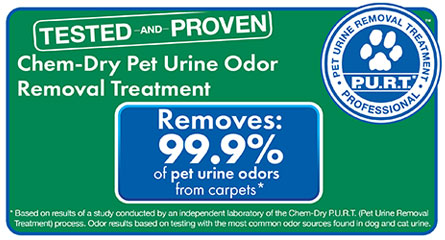 Pet Urine and Odor Removal
We all love our pets! At Chem-Dry of Michiana, we are proud to offer the South Bend & Elkhart areas the most effective process to handle pet urine and pet odor removal. Our Pet Urine Removal Treatment (P.U.R.T.) doesn't just mask the smell, but we eliminate the odor at the source, by exploding the urine crystals that cause the odors, so the smell is gone for good. Without Chem-Dry's P.U.R.T. treatment, urine crystals can last in carpet 7-10 years causing odors, bacteria, and stains. Our P.U.R.T. will remove 99% of urine odor in your carpets after only 1-3 days after application. Whether it's cat urine, dog pee, or any kind of urine in your carpet, Chem-Dry has the best carpet cleaning for all pet stains.
Urine in carpeting is a severe problem that can sometimes require major restoration work, not just simple cleaning and treating. But now, with Chem-Dry's Pet Urine Removal Treatment (P.U.R.T.®), your most severe urine soaked areas can be saved. P.U.R.T.® is a revolutionary process specially formulated to eliminate urine odors forever. This product has shown excellent results on even the most severe urine and other odor-causing spots by working to stop the smell at its source instead of simply masking the odor.
Tested and Proven Superior Results
An independent laboratory conducted multiple tests of P.U.R.T., our revolutionary process for treating pet urine odors and stains. In tests against the most common odor sources found in dog and cat urine, the study concluded that P.U.R.T. removes an average of 99.9% of pet urine odors from carpets.
Facts You Need To Know About Pet Urine In Your Carpeting:
Urine deposited on carpet does not stay there, it penetrates the fibers and contaminates both the backing of the carpet and the flooring material below the carpet. Often, without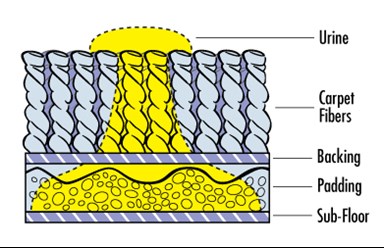 your knowing, pets will urinate continually in the same general location. Urine odors can permeate from the floor, be it cement or wood, from the tack strip, and even from the framework of the house behind the walls.
As the urine dries, the liquid evaporates but the urine crystals become even more concentrated and pungent. Simple cleaning will not remove this odor. Until recently, there was not a product available that was effective at removing urine odors. When P.U.R.T.® contacts the source of the odor, it immediately begins a chemical reaction that destroys the urine odor.

We offer our P.U.R.T. service to everyone in our area. Our professionally trained technicians will take care to inspect your home, identify any issues you may have and provide a free, no-obligation quote prior to beginning our service. The below video shows some tips on how to remove pet urine from carpet before Chem-Dry arrives.
Read What Our Customers are Saying
Joe's review on Google: "Very professional service, did everything in a timely manner and very good at explaining the process and fees. They eliminated the pet odors I've had!! Will call on them again if the need arises!"
Shannon wrote on Google: "I would recommend Chem-Dry to anyone. My carpet had pet odors, and Chem-Dry had the products and tools to remove them. My carpet looks and feels brand new! The cleaners were knowledgeable and friendly."
Dawn wrote on Facebook: "My carpets and furniture were in sad shape. For being 15 years old and having 3 dogs walk on them and have the occasional accident , I was seriously thinking about replacing them. I was having a house guest in a couple of weeks and crunched for time. As a last ditch effort, I decided to give Chem Dry a call. I couldn't be happier! My carpets and furniture look brand new."
Taylor wrote on Google: "After some research, I decided to use Chem-Dry to clean and sanitize our mattress and recliner due to pet odor. The employee who did the cleaning was very professional and communicated well by explaining how he would be cleaning the surfaces, along with answering all of my questions. The employee also offered suggestions to speed up the drying so we could return to our mattress and recliner ASAP. The cost was provided up-front with no additional or hidden fees. The cost was also cheaper than another business I was strongly considering. The employee was respectful to my home and took the necessary steps to provide great service without any mess. If you want a business that does a great job cleaning and sanitizing that won't break the bank, use Chem-Dry."
Robert wrote on Facebook: "I came home to a crazy mess!!! My two senior dogs had gotten sick while we were at work. Way to much of a mess for the bissel. I called up and spoke to Laura and explained my situation and she was GREAT!! Got me scheduled next morning. The two gentlemen showed up prompt and ready to go. They were courteous and professional to say the least. Before you knew its they were done and my room looks amazing!!!! I can't say enough great things about the whole situation and would" RECOMMEND CHEM DRY" to everyone... Thank you again for such a great experience."
Theresa wrote on Google: "Friendly customer service. Easy to schedule and punctual. Professional and did the job in a timely manner. Good coupons on their website. Our dog likes to chew slobbery tennis balls on the couch and made it stink. Couch smells great now!"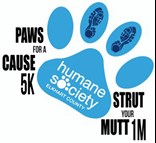 Proud 2019 Sponsor of Paws for a Cause & Strut Your Mutt Run hosted by the Humane Society of Elkhart County