Sanitizer and Protectant for a Healthy Home
Sanitize and Deodorize to Reduce Allergens and Bacteria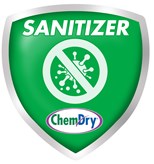 Sanitizer for a healthy home. Does someone in your home suffer from allergies or asthma so you are concerned about allergens and air quality? Are you concerned with the virus' that are so easily spread? Do you have children who love to roll around and play on the carpet so you are worried about bacteria? Carpets, rugs and upholstered furniture are beneficial acting as giant filters absorbing and collecting common allergens and germs. But, just like an air filter, they must be properly cleaned to remain most effective at trapping particulates as they settle from the air. Chem-dry has been tested and proven by a leading independent air quality laboratory* to effectively remove an average of 98.1% of common household allergens from the carpets and upholstery we clean. And when we apply a sanitizer and it is added with the Healthy Home Package, 89% of the bacteria in the air*, leaving your carpets, upholstery and air quality clean and healthy and your family safer.
Healthy Home Package: Deodorizer & Sanitizer
Chem-Dry offers an EPA Registered Hospital Grade Sanitizer that is also labeled as a Virucide proven to kill previous Coronaviruses.
Sanitizes carpets and/or upholstery to

 

eliminate unhealthy bacteria

 

that can spread illness
Reduces common allergens

 

from dust mites, pests, pet dander, pollen and more in the carpets and upholstery we clean
Special deodorizer reaches odors absorbed in your carpets and upholstery so they aren't just masked – they're eliminated
Works on all kinds of furniture, including: beds, mattresses and other household items
Don't Give Stains a Chance with Protectant Package
Your carpets and upholstery get a lot of use, spills are inevitable. Be sure to ask your Chem-Dry of Michiana professionals about applying Protectant to your carpets and upholstery. Over time, the factory-applied stain resistant becomes less effective and fades away leaving your carpets and upholstery susceptible to staining.
Chem-Dry Protectants create a barrier around the fibers in your carpets and upholstery items to resist soiling and staining by allowing spills to be removed before staining can occur. And when Chem-Dry Protectants are applied, soils and dirt release more easily when vacuuming.
Protect Package:
Restores manufacturer-applied stain guard that breaks down and fades over time
Forms protective shield around upholstered furniture and carpet fibers
Repels most stains, allowing a window of opportunity for you to soak up the spill on your own before it adheres to the carpet fiber
Works with a wide range of furniture materials
Trio of protectants for all carpet types including solution-dyed and wool carpets
The bottom line is by choosing Chem-Dry's Protectant Package, you can stop stains in their tracks.
Ask a Chem-Dry representative about how our carpet and upholstery cleaners can revitalize your home's carpets and upholstery for a longer lasting, healthier clean with our basic, protectant or healthy home cleaning for your carpets today.
*Based on results of studies conducted by independent laboratories of Chem-Dry's Hot Carbonating Extraction process. Allergens tested were dog and cat dander and dust mite allergen. All bacteria results include use of sanitizer. Figures are an average across multiple homes. Hard surface bacteria tests were based on independent lab testing associated with EPA registration #s 84683-3-74771 and 70385-6; sealed stone and VCT surfaces were evaluated and bacteria tested include salmonella, influenza and E. coli.