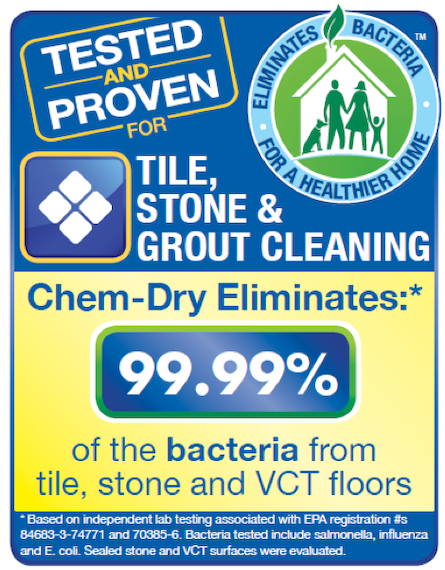 Tile Grout Stone Cleaning
When you are looking for stone, tile, and grout cleaning in the South Bend & Elkhart area, you can count on Chem-Dry of Michiana.  Our technicians are trained to insure your floors are clean and sanitized as our cleaning will remove 99.99% of bacteria from your tile and grout floors.
Rely on Chem-Dry to clean and refresh the look of your floors, countertops, showers, patios and foyers. Our professional technicians use specialized cleaning solutions and powerful suction equipment to remove dirt and grime that has built up over the years. Stop spending hours on your knees scrubbing and cleaning. Allow us to renew the shine to your tile, stone and grout throughout your home or business
Tested and Proven Superior Results
An independent laboratory recently conducted a study to determine the healthfulness and efficacy of our Tile, Stone & Grout Cleaning process. Based on several tests on tile surfaces in multiple homes, this study found that our Tile, Stone and Grout cleaning process, in conjunction with a sanitizer, removes an average of 98.6% of bacteria from these surfaces.
Keep Germs Out By Sealing Your Grout
As a part of every cleaning, your certified Chem-Dry professional can apply a coat of durable sealant to your grout. When our trained staff applies the sealant, a barrier is created, minimizing the amount of dirt that is able to seep into the grout pores. This helps your grout stay cleaner, longer and maintenance is simple because dirt doesn't penetrate deep into the cracks. Ask your local Chem-Dry for details.
Tile Cleaned By Chem-Dry Looks Better and Lasts Longer
It is recommended that your tile, stone and grout be cleaned every 12-18 months to ensure long-lasting protection. Sparkling, clean, sanitized tile and stone looks better and is healthier for people and pets. Chem-Dry's service is perfect for many varieties of tile and stone such as Saltillo, ceramic, porcelain, slate, granite and travertine. Also ask about our grout color restoration service to rejuvenate existing grout joints.
Renew the look of your tile, grout and stone by calling Chem-Dry today. As a trained Tile & Stone service provider, we can provide a free phone estimate.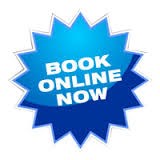 If you have any questions about our stone, tile and grout cleaning services, please give us a call today.  We have the equipment and training necessary to provide the best clean possible.

Comments from our Customers on our Tile & Grout Cleaning:
Kelly wrote on Google: "I recently bought a home in the area and I reached out to Chem-Dry of Michiana to not only clean my carpet but also my hardwood and tile. They did an AMAZING job! I'm thrilled with the results and feel MUCH better knowing when we move in everything is sanitized and cleaned properly! I will definitely be using them again in the future and couldn't be happier!"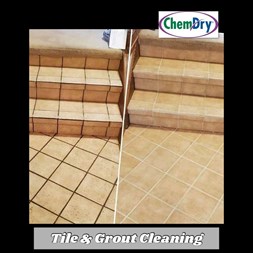 "Just had my Kitchen tile floor cleaned. Previous owner had put some sort of sealer on it. Wouldn't come clean no matter how much I cleaned. They explained it might not come up or feel much different......however it came up and my floor looks absolutely beautiful now! Definitely recommend and will be using them again in the future!" Dustie wrote on Google
"We use Chem-Dry for our carpets and during the last carpet cleaning they informed us of their tile/grout cleaning and sealing service. We made the appointment and yesterday they arrived and cleaned our grout. I highly recommend Chem-Dry for their professionalism, on time arrivals and courteous service personnel Our tile and grout look as good as the day our house was built 24 years ago. Give them a try....you won't be disappointed!" Michael wrote on Google. 
Christina wrote on Google: " I used them recently for cleaning my area rugs and they looked and smelled great afterwards! Then I called them back to clean my ceramic tile and grout. It had never been professionally cleaned before, just done with a regular mop and steam mop. The difference is amazing. The grout is all the same color now, it's shocking how clean it is. I highly recommend."
"Oh my carpet and tile look so beautiful! My tile looks brand new, just like the day it was installed! Never a complaint when you come out!" Chris P in South Bend, IN
"Thanks Chem-Dry for a job well done and money well spent! My tile floors look like new again. I would highly recommend them!" T. Martin Elkhart, IN