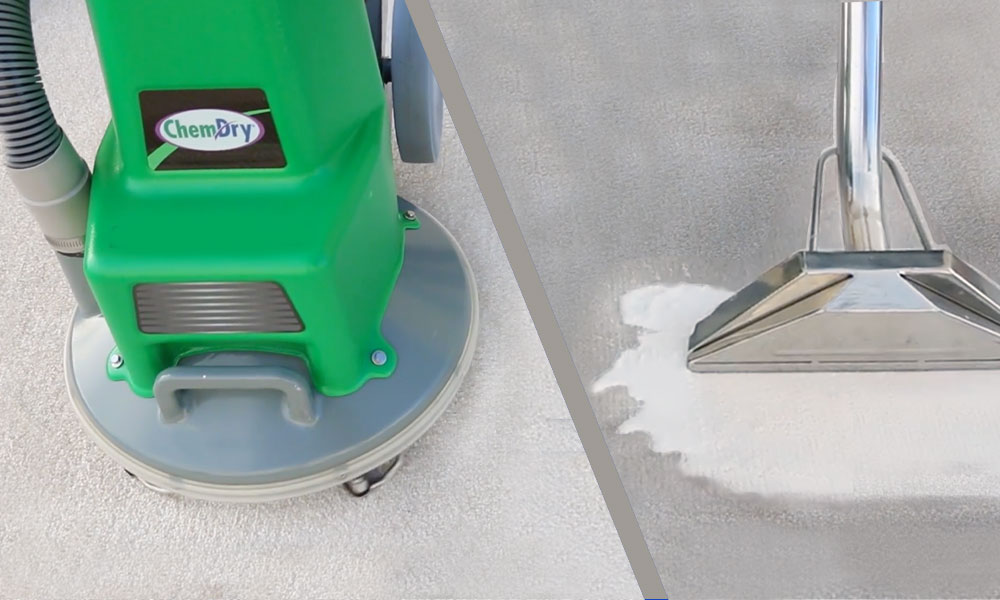 Chem-Dry vs Steam Cleaning

When you are looking for a healthier, dryer carpet cleaning experience in the South Bend & Elkhart areas, you can count on us. We clean for your health, and part of our promise is to deliver a healthier cleaning process than our steam cleaning competitors. Yes, there is a difference with Chem-Dry vs Steam Cleaning. Here are some reasons why Chem-Dry is a cut above the rest.
Not All Carpet Cleaning Services Are Equal
What makes the Chem-Dry Hot Carbonating Extraction cleaning process different from other methods, like steam cleaning? Almost everything.
Instead of soaking your carpets with gallons of water like a steam cleaner does, our HCE process uses about 80% less water. We do this by sending millions of microscopic carbonated bubbles deep into your carpet fibers to explode the dirt within. Particles of dirt and grime are then lifted to the surface and whisked away by our powerful extraction equipment. Due to the minimal amount of moisture used, carpets cleaned the Chem-Dry way dry in just 1 to 2 hours.
The Difference Between Chem-Dry Carpet Cleaning and Steam Cleaning
Chem-Dry Hot Carbonating Extraction
Resists resoiling
Low water quantity
Low pressure application
Short drying time
Chem-Dry Green Certified cleaning solution
Typical Steam Cleaning
Soapy detergents encourage resoiling
High water quantity
High pressure application
Long drying times

Chem-Dry of Michiana is preferred by customers and professionals alike. The Carpet and Rug Institute (CRI) designated Chem-Dry of Michiana as a company deserving the CRI Seal of Approval for the innovative and unique Hot Carbonating System. This program identifies effective carpet cleaning solutions and equipment that clean carpet right the first time and protect a home or commercial facility's carpet investment. The blue and green CRI Seal of Approval is proof that you are investing in a quality carpet cleaner.
Many Carpet manufacturers require routine carpet cleaning to maintain your carpet warranty and cleaning with Chem-Dry of Michiana will keep that warranty intact.  Carpet manufacturers like Monsanto, Shaw and DuPont all approve the hot water extraction process that are approved by the Carpet & Rug Institute to maintain your carpet warranties. 
Remember, when you need the best carpet cleaning in the area, call us for a free estimate.
Read What our Customers are Saying
Star wrote on Facebook: "Chem-Dry is my go to carpet cleaning service! They are timely, considerate, and kind. To my amazement, they even tackled a horrible red nail polish stain!"
Kathy wrote on Google: "The service provided was excellent. They did a great job of cleaning my carpet and were very friendly and accommodating. I highly recommend Chem Dry to others and I will definitely use their services again."
Steven wrote on Facebook: "Great service and results. The only carpet service we will ever use. We've tried the rest , but we'll stick with the best.
Bob wrote on Google: "Two technicians from Chem-Dry called me 15 minutes before they work to arrive and showed up exactly on time. They were polite professional friendly and thorough. They also clean the carpet much more quickly that I had expected. The carpet looks fantastic and smells very nice also. I will use them again."
Get Your Free Quote Today!
Contact us to schedule an in-home consultation and to get your free quote!